Simplifying Hybrid Events – Audio Options
2.
Simplifying Hybrid Events – Audio Options
Take an audio-first approach to your hybrid events. When you plan a hybrid event it is necessary to take the audio logistics into consideration from the start of planning.
As more people get vaccinated and the U.S. starts to open back up to large gatherings, The WebiNerd is seeing our clients cautiously move towards hybrid events to gain the best of both worlds – collaborating together on location while making the content accessible to all participants via a virtual platform like Zoom.
In this article we're focusing on audio communication – or the sound that is shared in your event. It's easy enough to send video feeds to and from a physical space, but wrangling the audio so that the live room can be heard clearly by remote participants (mono-directional communication) is a reasonable task and we'll talk about that first. Taking the further step of hearing remote participants in the live room (bi-directional communication) without echo and feedback takes careful planning and someone at the controls in the live room to ensure audio quality is maintained.
Hybrid Event: an event hosting both in-person participants in one or more physical location and remote participants attending virtually via a meeting or webinar platform.

Live Room: a physical space where your presenter(s) is/are located with an optional live audience.

Mono-directional communication: One location sends audio into the virtual event, and all other locations hear that audio.

Bi-directional communication: Multiple locations send audio into the virtual event, all other locations hear the audio.
Audio Options to Consider
I'm sure our more industrious readers can find a way to make this part of the topic more granular, but we divide hybrid events into two types of audio communication: bi-directional or mono-directional.
If you're on board with us so far, you know that mono-directional is going to be a heck-of-a-lot simpler, but we'll break down how to choose and what needs to be considered.
Hybrid with Mono-directional Communication
This solution offers the technically simpler solution as your remote participants do not need to be heard in the live room. Our primary concern is making sure that our presenter(s) can be heard in the live room and by remote participants. We do not need to connect the platform outbound audio to a PA (public address) system in the room.
Hybrid with Bi-Directional Communication
This solution allows for robust communication between all participants regardless of their location. As remote participants need to be heard in the live room, our primary concern is amplifying that audio in a way that does not create echo and feedback. Essentially, when sound is coming out of the speakers in the room, the microphone must be muted or ducked so that sound does not loop back into the system. Audio hardware and software is available with built-in solutions for muting microphones to avoid feedback – Zoom has built-in echo cancelation for instance.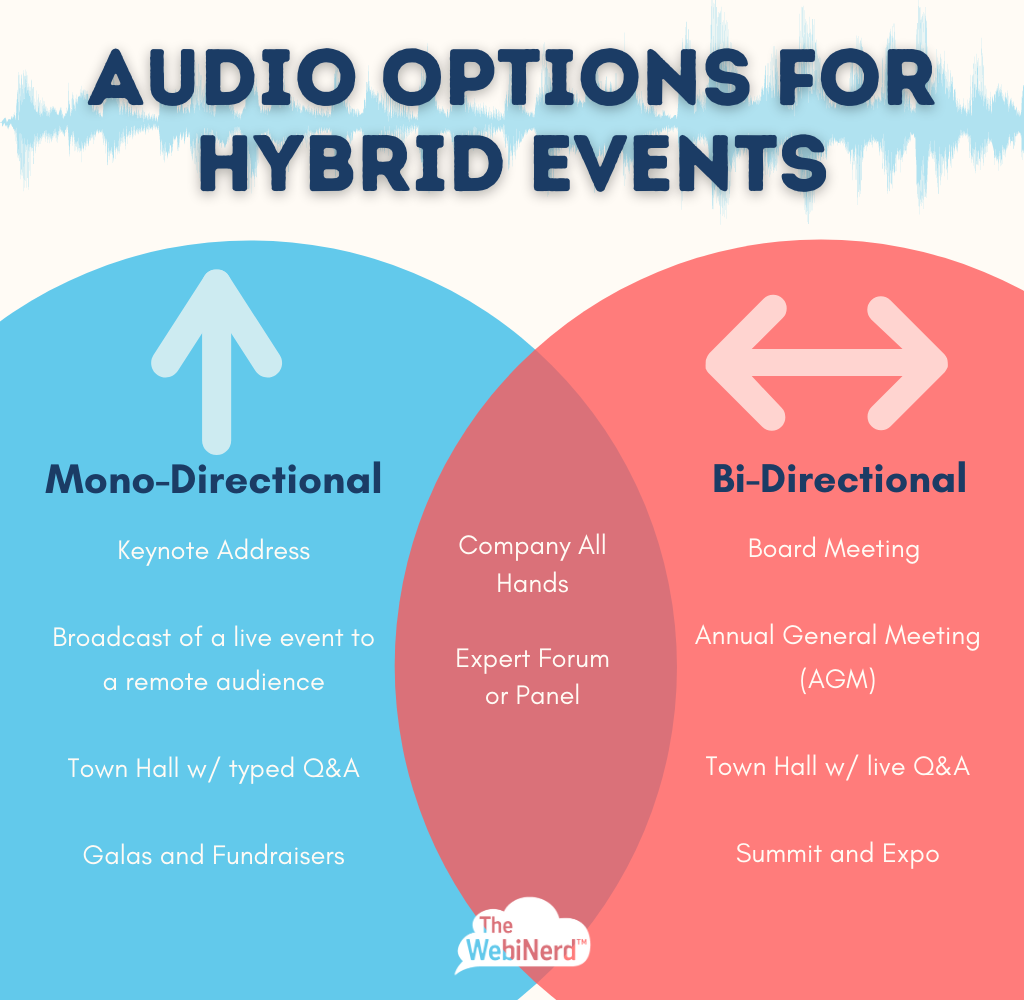 Ready to move on to the next step in planning your hybrid event?
Next, we will want to get into the specifics of the room or space that you are going to use and this is where the doors fly wide open. Your solution depends on the size of the room and whether or not you need to amplify sound in the room through a PA (Public Address) System. Will you need a Mix-Minus signal for your feed? As this conversation grows, we will do our best to compartmentalize these topics. We hope that you'll come back for our next installment.
Bonus: Need help figuring out how to use the hybrid concept? Bizzabo put together a list of 18 hybrid events in 2020 that may give you some ideas.
---
Let us know if you have questions about your upcoming hybrid event and we'll help you find the solutions that you need to execute your vision.
Schedule time with us